There are some recipes where the sous vide really shines. Using your machine to sous vide fried chicken is one of those instances. One of the most difficult things about the classic fried chicken recipe, is trying to cook the inside of the chicken without making a burned mess of the crust. In this recipe the sous vide cooks your chicken to the perfect internal temperature. The deep-frying is the finishing touch.
Before I got my sous vide, I only made fried chicken maybe once or twice. Now, fried chicken is a staple in my house. It is perfectly crispy on the outside, and tender and juicy on the inside!
How long do I have to fry the chicken for?
Because we are sous viding first, the chicken only needs a flash fry of 3-5 minutes to get the skin nice and crispy!
What is the best oil to use?
There are multiple options, but I would recommend canola or vegetable oil for its high smoke point. It can also be reused. Ideally we want to fry our sous vide fried chicken at around 350 degrees.
What pieces of chicken are best?
You can use all the different cuts from the chicken. My favorite are the drumsticks.
What Equipment do I need?
Sous Vide Fried Chicken Recipe
Step 1
Set your Sous Vide Machine to 155 Degrees Fahrenheit.
Step 2
Season your chicken with salt and pepper and place in your favorite sous vide bag, or in a Ziploc, and place it in the water bath. If using a Ziploc make sure to use the water displacement method.
Step 3
Cook the chicken at 155 for 2 hours
Step 4
Dry the chicken well. Coat it in the flour, then the egg, and back in the flour.
Step 5
Heat up your cooking oil in a pot to 350 degrees and place a few pieces of chicken in at a time.
Step 6
Cook each piece of chicken until brown and crispy, approximately 3-5 minutes. Enjoy!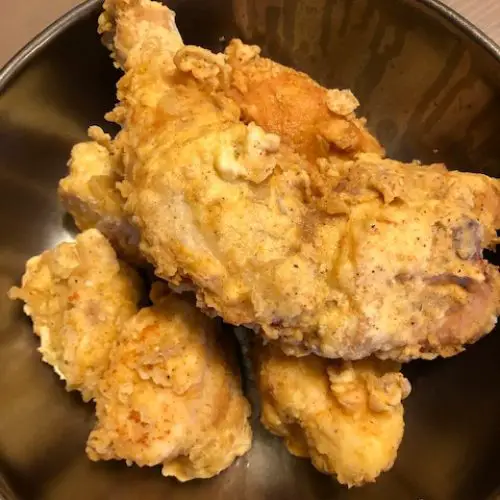 Sous Vide Fried Chicken
Using your sous vide to fry chicken is the best way to get a perfectly crispy outside and tender inside!
Ingredients  
The Chicken
1/2

tspn

Salt

1/2

tspn

Fresh Black Pepper
The Flour and Egg
2

cups

flour

1

tbsp

fresh pepper

1

tbsp

kosher salt

1

tspn

garlic powder

1

tbsp

paprika

1

tbsp

cayenne pepper

optional

Canola Oil

for frying

2

eggs

beaten
Instructions 
Fill up your sous vide container or pot with water and set the machine for 155 degrees

Season your chicken with salt and pepper and place inside of your bag, and seal

Place the chicken in the container and cook for 2 hours

Mix in all the seasonings with the flour in a wide bowl or plastic bag

Take out your chicken and dry thoroughly. Coat chicken first in flour, then egg, then flour again.

Heat up a pot of oil to 350 degrees

Place your chicken in the oil and fry for 3-5 minutes or until golden brown and crispy

Cool chicken on a rack. Enjoy!
Looking for more recipes? Be sure to check out our best Sous Vide Cookbook reviews!