Our top choice for the best sous vide cooker is the ChefSteps Joule Sous Vide, followed closely by the Anova Culinary Sous Vide Precision Cooker and Sous Vide Supreme Water Oven. However, there are ten solid options that we have sous vide reviews for, all of which get the job done with minimal mess and error.
All our listed options fall into the main two categories for sous vide machines: immersion circulators and water ovens. While they vary drastically in how they appear and are used, both provide the same result with the same method: heating and circulating water to cook food to precise temperatures, without overcooking or undercooking.
A note about the power of immersion circulators
Power of the best sous vide immersion circulators are measured in watts. The higher the watts a model has, the faster it can bring the water bath up to the specified temperature to cook your food. This does not come without its downsides, though.
The more power sous vide units have, the more users need to be cautious about evaporation. When cooking larger meats and foods (anything for more than two hours), evaporation will likely become a concern. If so, it's important to keep an eye on the water level to ensure it doesn't drop below the minimum level. Water levels below the minimum when working with the delicacy of water bath cooking can spell disaster for the final product.
All our sous vide cooking equipment reviews feature sous vide devices with wattages between 800 and 1,500.
Sous Vide Review Center 2018
Our reviews come from thorough knowledge of the best sous vide products on the market, combined with years of experience in the food industry and aggregation of thousands of sous vide reviews spanning across many different relevant sites. Through this, we have cultivated a top ten list and comprehensive buying guide to meet any potential consumer's needs.
Without any further ado, let's dig in!
#1 – ChefSteps Joule Sous Vide
The ChefSteps Joule Sous Vide is the top product on our list for a variety of reasons. It is a well-designed, minimalist, compact immersion circulator that outperforms competitors in almost all categories mentioned above.
This sleek product puts out 1,100 watts of power, ensuring an even, quick cooking time for any food put to the task. It is small, at only 11 inches in height, 1.3lbs in weight, and a two-inch diameter immersion tube. Comprised mostly of white polycarbonate, the machine has two stainless steel rings at the top and bottom.
At first glance, one thing that should be immediately apparent about the Joule compared to alternatives is its complete lack of onboard controls. All control of the machine is performed via a mobile app through WiFi and Bluetooth, much like the Mellow reviewed back in December. The Joule has a blue light to let you know that it is on and responsive, but that is all.
This is advantageous, as it makes the unit solid as a rock and water resistant (no buttons). However, it can be a disadvantage as well, as if you have connectivity issues, it can affect the outcome of your food.
The Joule has a mounting clip, magnet for metal base connectivity, and an incredibly wide range of water minimum and maximum temperatures (1.25 to 8 inches). However, it should be noted that there are no markings on the product itself to indicate this.
Check Price on Amazon
#2 – Anova Culinary Sous Vide Precision Cooker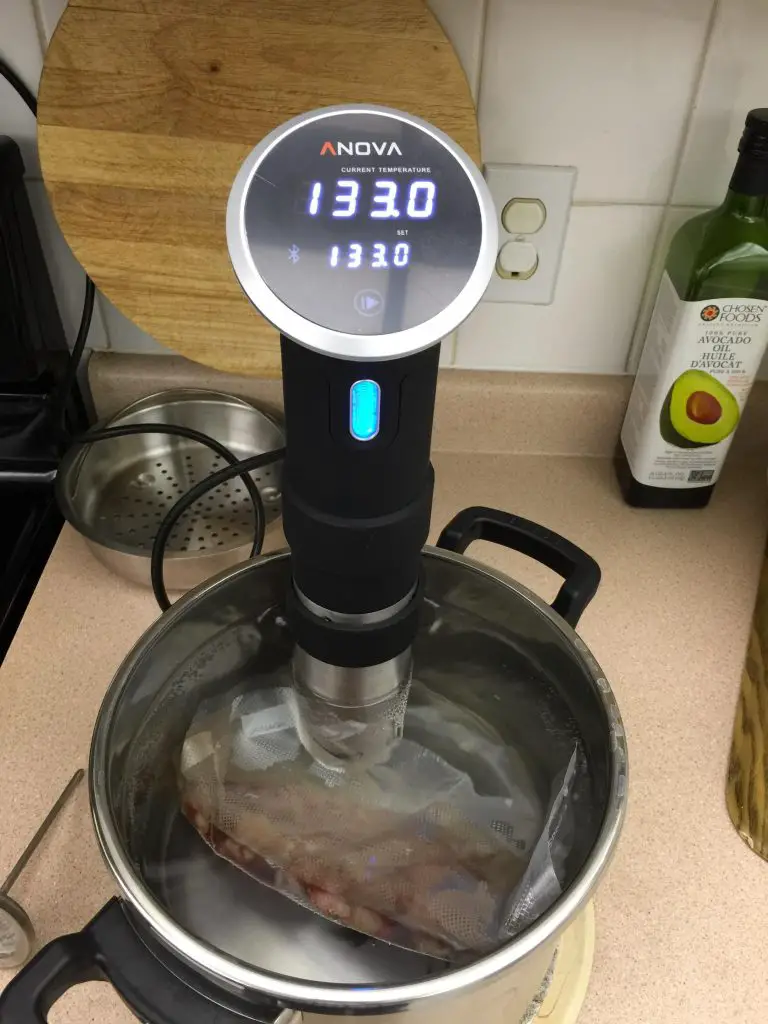 The Anova Culinary Sous Vide Precision Cooker is highly rated, much like the Joule above. It has more of a traditional look and feel, more in line with most stick-style immersion circulators on the market. Much like the Joule, most tasks with the Anova model occur via the Anova app, which is minimal and contains a full suite of features to ensure that your food is cooked perfectly every time.
This product puts out 900 watts of power, still plenty to ensure fast cooking times and properly cooked food. It is slightly larger than the Joule, measuring close to 15 inches high and almost three inches in diameter at its widest point.
Like most top-rated sous vide machines, the Anova's process has been made simple and intuitive. Just attach the Anova to a water-filled pot, with a water level between [X] and [X]. Then, set the time and temperature, which can be done on the device or through the Anova Culinary App. Place your food of choice in a Ziploc bag, drop it in the water, and clip the food to the side of the pot and let the immersion circulation work its magic.
Currently, the real draw to the Anova option versus the Joule above boils down to two main things: the ability to adjust and control from the machine itself, and its integration with Amazon's Alexa. Voice control turns the Anova Culinary Sous Vide Precision Cooker into your sous chef with minimal setup necessary.
Check Price on Amazon
#3 – Sous Vide Supreme Water Oven
Unlike the Anova and ChefSteps options above, the Sous Vide Supreme Water Oven is an entire appliance, ready to go without needing to find a properly-sized pot or configure a cooler to work for your immersion circulation needs.
The Sous Vide Supreme option touts itself as the first water oven developed to make sous vide cooking affordable and straightforward. It is the most reasonably-priced water oven machines on the market, and the glowing sous vide water oven reviews back up its quality.
This product is the closest item on our buying guide to a slow cooker. It has simple controls, and no need to download an application and connect to the device via Bluetooth. This is old school sous vide. Additionally, the Sous Vide Supreme Water Oven is known for its natural clean-up process. Unlike stick-style immersion circulators, which require the use of a pan, and cleaning can get messy, this device needs you to empty and wipe down the interior.
While it is a full water oven, the Sous Vide Supreme option is energy efficient and extremely quiet, using the energy equivalent of a 60-watt lightbulb once the cooking process hits its target temperature. Temperature adjustments are accurate to a single degree, allowing for maximum customization of the cooking process.
Check Price on Amazon
#4 – Tribest Sousvant SV-101 Complete Sous Vide Circulator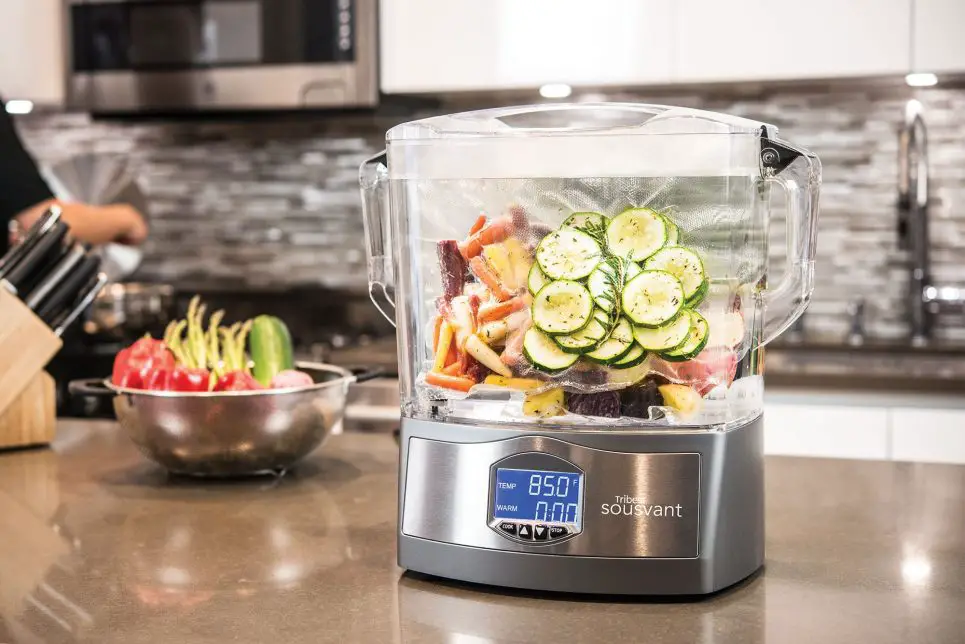 The Tribest Sousvant SV-101 is a water oven like the Sous Vide Supreme above, but with a transparent and removable vessel, allowing for more straightforward filling of water and visibility of the cooking process. This is important, as being able to see your food cooking will alleviate the need to continually be checking by opening a lid, causing the temperature to drop rapidly as it adjusts to the cooler air introduced by your curiosity.
This product boasts of its all-in-one capabilities, with simple clean-up and without the need for finding another container, clipping on immersion circulators, or dealing with smartphone apps and faulty WiFi connections.
Everything needed to get started with sous vide is present in the Tribest Sousvant model, with foolproof controls and a large display. The temperature controls are precise, providing the perfect food results time after time. The Tribest model has an impressive 1000-watt circulation power system, heating water rapidly and adjusting to an astonishing 0.1-degree accuracy. Even with the powerful power output, the machine is still whisper quiet, a feature backed up by many sous vide reviews.
Check Price on Amazon
#5 – Kitchen Gizmo Sous Vide Immersion Circulator
The Kitchen Gizmo Sous Vide Immersion Circulator is one of the most affordable entry points for sous vide on the market. Unlike the above immersion circulators by ChefSteps and Anova, the Kitchen Gizmo option does not require application installation or connectivity. Instead, this is a more traditional approach, with all controls on the device itself.
This product features an easy-scroll selection wheel to allow for precision cooking of food and a touchscreen control panel. The motor is powerful, running at a maximum of 800 watts, providing rapid heating of the circulating water in whatever vessel it is clipped to.
Made for the beginner sous vide cook, but applicable to all skill levels, the Kitchen Gizmo Sous Vide Immersion Circulator comes with a temperature guide and a hefty cooking guide filled with fantastic recipe options. This provides users dozens of choices for not only incredible meal options but also varying cooking styles and sous vide processes.
Check Price on Amazon
#6 – PolyScience CHEF Series Sous Vide Commercial Immersion Circulator
PolyScience Culinary has been touted as one of the leaders in sous vide worldwide. This is the immersion circulator used by professionals in world-class kitchens around the globe. While it is one of the most expensive immersion circulators on the market today, it is also the strongest around, with multiple impressive features that blow other immersion circulators out of the (hot) water.
This product was designed for purely commercial use, which leads to a lack of design aesthetics. But for the lack of curb appeal, the PolyScience CHEF Series makes up in functionality and practicality. This thing is a tank. It features an 1100-watt heating mechanism, and maintains water temperature to the 0.1-degree level, combining the impressive power level of the ChefSteps Joule with the precision of the Tribest option above.
This powerful heating level and industrial aim allow the PolyScience model to work flawlessly in water baths up to 30 liters, pumping through 12 liters per minute in circulation. This is astronomical compared to all other sous vide machines in this buying guide.
This device is one of the best sous vide cookers that has ever existed. Its only downside is the price point, which will likely scare away entry-level and home chefs looking to buy a sous vide machine.
Check Price on Amazon
#7 – Sous Vide Supreme Demi Water Oven
The Sous Vide Supreme Demi Water Oven provides similar features with a build much like the standard Sous Vide Supreme reviewed above. Think of this as its little brother, coming in at a smaller footprint and a lower price point. This product was introduced as a more affordable, more space-conservative option to its alternative.
Regardless of its diminutive size (the product has an 8.7-liter maximum tank size), it still packs quite the punch and is surprisingly roomy. The tank holds a dozen four-ounce food portions without breaking a sweat, and the single-degree precision ensures that any food type can be cooked to perfection with limited opportunity for errors in the process.
The Demi is more energy efficient and quieter than alternative water ovens, and much like its big brother, it uses the energy equivalent of a 60-watt lightbulb once the cooking process hits its target temperature.
Check Price on Amazon
#8 – VacMaster SV1 Sous Vide Immersion Circulator
The VacMaster SV1 Sous Vide Immersion Circulator is a beautiful choice for commercial use or frequent home utilization. It has a very durable design, precise timer mechanism, and a powerful heating process.
There is no need for phone connectivity with the VacMaster option. Everything can be controlled from the circulator itself. One big draw to this circulator is its small footprint, only 2.75 inches deep. This provides far more space for your food to cook and for the water to circulate.
Its digital control panel is intuitive and simple for beginners to use. The product has a professional-grade pump, designed for commercial use, and like the PolyScience CHEF, can handle 30-liter water baths with ease. This is due to its 1500-watt heater, which is far more powerful than the other immersion circulators being reviewed. However, this causes the price point to be a bit higher than comparable alternatives for home use.
Check Price on Amazon
#9 – PolyScience CREATIVE Series Sous Vide Immersion Circulator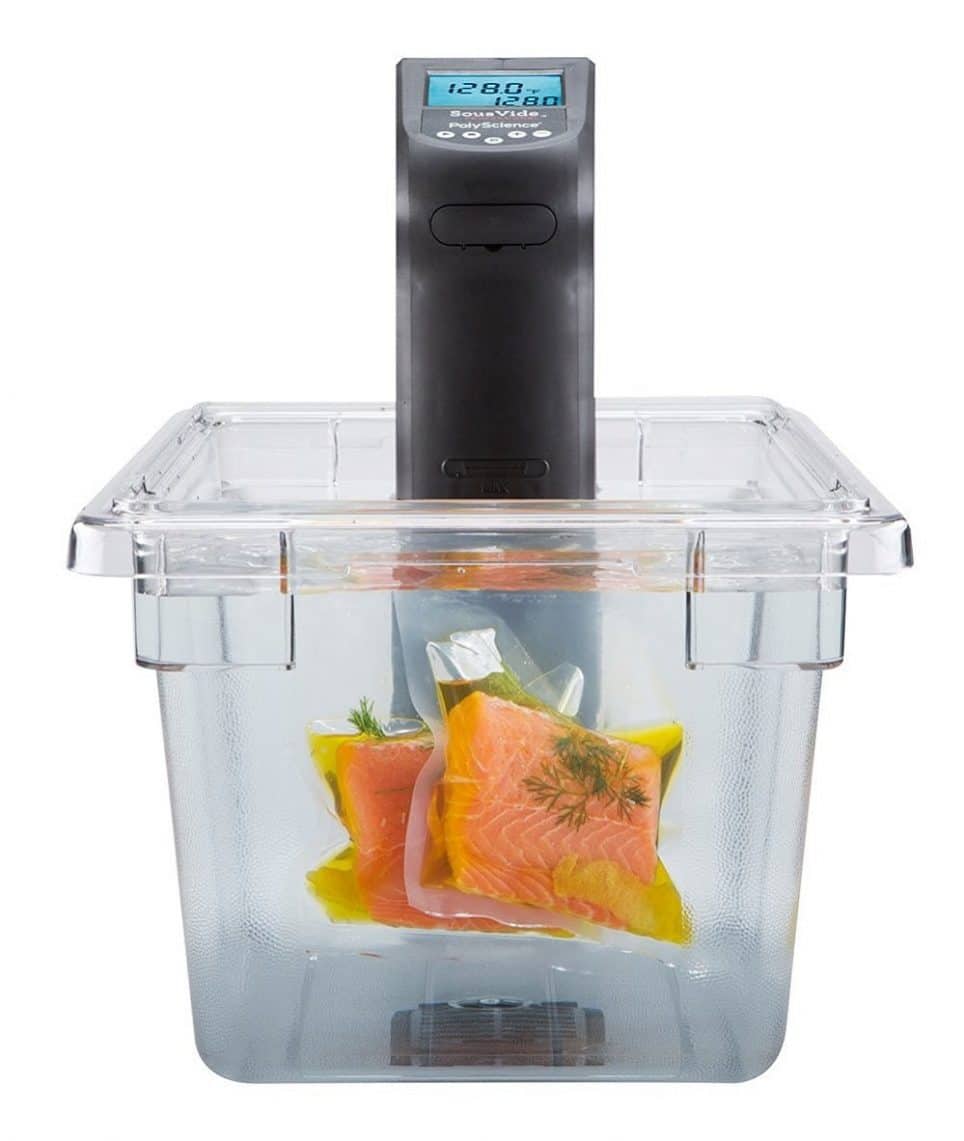 The CREATIVE model from PolyScience is the company's response to the higher-priced commercial success of its CHEF model and widespread restaurant use of its even more expensive CLASSIC model. Home sous vide cookers were wanting an option that was more affordable, while still retaining most of the qualities loved in its predecessor.
As with the CHEF reviewed above, the PolyScience CREATIVE Series Sous Vide Immersion Circulator was designed for durability and consistency in mind, not aesthetics, so it is bulky and not very attractive to look at. However, powerful features such as a longer power cord, stronger clamp-style clip, and consistent display make up for any design shortcomings.
Much like its counterpart, the CREATIVE comes with a 1,100-watt heater, quickly and efficiently heating water to desired temperatures with the press of a few buttons. The flow rate is a bit lower than the CHEF, offering 6 liters per minute compared to 12. This means that the maximum effective container size is 20 liters, to avoid inadequate circulation. However, 20 liters is more than sufficient for almost all home uses.
Check Price on Amazon
#10 – Gourmia GSV900 Sous Vide Self Contained Circulating Water Oven
The Gourmia GSV900 is the final home sous vide machine on our buying guide. This is one of the most affordable full water ovens on the market, and has a 10-liter capacity, putting it at the midpoint between the two Sous Vide Supreme options on the list above.
The base of the Gourmia product is stainless steel, leading to a higher weight than alternatives. However, the design and handles of the water oven allow for quick and easy movement and lifting when needed. The top of the unit has a transparent lid for keeping an eye on things. However, higher temperature cooking can cause it to steam up, obscuring food from view.
One drawback to this affordable water oven is its lack of a removable tank. This makes cleanup a bit trickier than the other water baths on this list. The tank features well-marked minimum and maximum water lines, ensuring that first-time users don't make the beginner's mistake of filling the tank too high, resulting in uneven cooking.
Check Price on Amazon
Wrapping Everything Up
To get the full scoop on each of the ten sous vide machines we have chosen for our buying guide, click the links to read the expanded reviews of the products. The world of sous vide can get complicated. However, with growing interest and massively expanding product options coming to market with increased popularity, sous vide is here to stay.
Other important things to note when performing due diligence and digging deeper into immersion circulator reviews and sous vide machine reviews are potential advantages and disadvantages of things such as leaking, connectivity issues, hard scale buildup, and safety concerns.
Finding the best sous vide for your needs doesn't need to be a complicated process. The options are limitless, but with buying guides such as this, we strive to provide brief, honest product reviews and results, to make the process a little bit easier.
Sources:
https://www.chefsteps.com/activities/what-is-sous-vide
https://www.bonappetit.com/story/what-is-sous-vide-cooking
https://anovaculinary.com/what-is-sous-vide/
https://en.wikipedia.org/wiki/Sous-vide
https://www.village-bakery.com/best-sous-vide-machines/