If you like the sous vide method of food preparation, or you just want to vacuum-seal fresh food to make it last longer in the refrigerator or freezer, here are some of the top sous vide vacuum sealers out there.
These were chosen from the rather large selection that currently exists because of their features, quality and versatility, as well as what kind of feedback previous customers left. You'll find the best overall, the best budget option and more.
If you're looking to buy a quality sous vide vacuum sealer to go with your sous vide machine, this list is definitely where you want to start.
Vacuum Sealer for Sous Vide Review Center 2018
Want to learn more?
Now that you've seen our top 5 picks for sous vide vacuum sealers, we're going to go into more detail on why we love each of them. Once you've found the one that's best for you, click the yellow button to get the best price on Amazon!
#1 – FoodSaver v4840 2-in-1 Food Sealer
We chose the FoodSaver v4840 as the best overall pick for several reasons, but one of them was the price versus what you get. Not only does it automatically seal canisters, baggies and custom storage containers of any shape and size with an included roll of plastic, it also marinates. Let's check out the features.
Retractable and hand-held
Settings to choose between dry and moist food
Seals and packs food for storage in seconds
Marinate food inside a sealed baggie in minutes
Roll storage bar with an easy-to-use roll cutter
Starter kit of bags and assorted storage solutions
Easily removable and dishwasher-safe drip tray
You might think that you would hardly ever use a sous vide vacuum sealer but you would be surprised how often you'll be pulling it out once you have it.
Every time you buy hamburger, you'll want to parcel it out into vacuum sealed sous vide bags, and you'll even find yourself vacu-packing things that don't really need to be – like your child's lunch – just because you can. Go ahead and get the FoodSaver v4840. You won't regret it.
So, there are lots of advantages to the FoodSaver v4840. You get an entire roll of plastic measuring 11-inches by 10-inches so you can make up as many packages as you want. You get an entire starter kit with the FoodSaver v4840, and it's a huge gift package that will make you think Christmas has come early. But in case you are in a hurry, you also get five heat-seal bags, three of them with a quart capacity and two that hold an entire gallon.
You also get five zipper bags, again three quart bags and two gallon-sized bags. But that's really just the beginning when it comes to advantages. This unit is so easy to use. It automatically feeds the baggies or plastic and seals them quickly. You can retract it and use it while it is in your hand, plus it cuts your plastic easily when you are ready to seal.
The only disadvantage with this product is that some customers have complained that they can't make a train of packages to seal all at once like they could with other FoodSaver vacuum sealers that they had. However, most people were extremely happy with this appliance.
If you want a great food vacuum sealer for sous vide, this is our definitely our overall pick. Not only is the FoodSaver v4840 automatic, with plenty of great features, but it is also a very durable unit that is going to last for a long time. FoodSaver is a great brand that has definitely earned customer loyalty with their kitchen products and this is definitely the vac-seal appliance that we recommend. You can get yours here right now. When you have a FoodSaver, you'll be able to freeze food items for long periods of time, which means that you can save money on bulk shopping, and you'll never worry about freezer burn again. You can check the lowest price on the FoodSaver right here.
Check Price on Amazon
#2 – INLIFE K9 Vacuum Sealer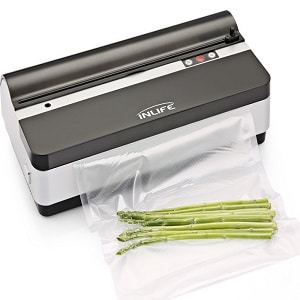 Next up on the list is the K9 from INLIFE. Easily seal your favorite foods, whether they are moist or dry. This unit has several different settings so that you can choose how you want to seal a particular container and several other good features that make it a definite contender for one of the best sous vide vacuum sealers on the market.
Works with wet and dry foods
Prevents freezer burns on fruits, vegetables and more
Prevents bacteria from getting out and locks nutrition in
Multiple sealing modes for full seal, half seal, seal only and air suction only
Simple stop-start button operation
Lid easily opens and closes with buttons on the sides
Comes with starter kit with bag material roll
So, why does this product have so many advantages over the other on this list, and especially over all of the other ones out there? Simple. The INLIFE K9 is high-quality and is going to last for a long time; it has multiple settings that allow you to customize your seal just about any way you want, and has the ability to marinate, seal canisters and a whole lot more. Basically, except for the overall winner listed above, this is your next best choice. It has everything you need to pack up any kinds of foods you want to store short-term or long-term. It's easy to use and it works every time.
There really isn't anything to list when it comes to disadvantages on this product. The K9 vacuum sealer had a rate of 94% satisfaction, four stars or higher, with only one person that had a legitimate complaint. Their unit didn't seal, but it was an isolated incident, and they likely sent it back for a replacement. You can get yours right now by clicking here.
There are so many good things about this product that you should be thinking seriously about getting one. This is a quality product that everyone should buy. The only reason not to get this one is if you are getting the one that is right above it – the FoodSaver unit that won the "Best Overall" spot. You can seal, marinate, cook sous vide or even seal up cash and put it away for a rainy day, packed into a tiny little vacuum pack envelope that you can hide anywhere. This is a terrific buy and we definitely recommend this product, as do so many other people who have purchased it on Amazon. Check out the reviews and look at the pictures, see just how easy it is to zip-lock food in airtight packages and you'll be convinced.
Check Price on Amazon
#3 – FoodSaver V2244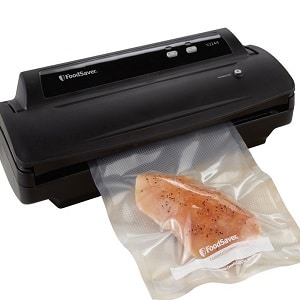 The FoodSaver V2244 has a compact size that allows you to hold it in your hand. It features manual operation and an easy feed so that you can take it anywhere and plug it in and go. This model was chosen because it was the best portable unit for those who want to take it with them on the road or all over the house and need to use it quickly with little or no setup.
Very compact with manual operation
Drip tray slides out and can be rinsed off or put in the dishwasher
Starter kit includes: 11″x10″ Heat Seal Roll, 3 Quart Heat Seal Bags, 2 Gallon Heat Seal Bags and Accessory Hose
Protects delicate foods so they don't get crushed during sealing
Marinates food in a matter of minutes
5-year warranty
Accessory port
Canisters
Those who do not have a food sealer in their home are missing out on some great opportunities. You can seal all kinds of stuff that you would never be able to freeze or preserve, and with this model, you can even marinate and do canisters. This is definitely one of the better sous vide vacuum sealers out there, even among the amazing ones on this list.
The major advantage of the FoodSaver V2244 is that it is super lightweight and portable, and you can have it set up and ready to seal in seconds. This is great for sous vide, as well as any other reason you have for food sealing. The cord is long enough to plug in even if you are fairly far away, so you always have the ability to seal food and store it, even if you're traveling.
Of course, the fact that the FoodSaver V2244 is highlighted as a portable product and you still have to plug it in will certainly disillusion some people. There are battery operated vacuum sealers for sous vide out there, but they are few and far between for two simple reasons: they don't seal effectively 100% of the time (when the battery is low) and the batteries go really, really quick. This is the best portable unit that you can get and still have the power of a quality machine without having to constantly buy new batteries for it. Other than that, the only other disadvantage is that it doesn't do quite as much as the overall winner and runner-up listed above.
So, the bottom line here is that this is a portable machine without all of the bells and whistles of the more expensive units. This isn't as inexpensive as the budget options on this list, but it is pretty close, and it has everything you could want in a portable unit.
The accessory hose and the huge sheet roll and baggies that it comes with make this much more than a portable unit that you'll be able to use in an emergency while traveling. The FoodSaver V2244 is all-in-one, doubling as your main sous vide vacuum seal machine and portable enough to take anywhere. It marinates, it seals, it vacuum packs and much more.
Click below and see what the sale price is for the FoodSaver V2244. If you get this little vac-packer, you'll be sealing up everything within arm's reach.
Check Price on Amazon
#4 – Nesco VS-02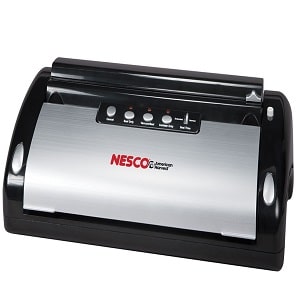 The Nesco VS-02 is the top choice for the best budget vacuum sealer for sous vide. This is a high quality machine that still allows you to buy smart, getting all the features you need and most of the ones that you want for a very good price. Let's check out the specifications.
Excellent sealing system that reduces food waste by preventing freezer burn and spoiling
Easy operation with a single button to push
Turns of automatically
Switch to extend sealing for wet foods
Includes roller and cutter
Fits roll bag up to 11.8 inches
Includes 2 Rolls 8.66" x 9.8′, 5 flat 8.66" x 11.8" and 5 flat 11" x 11.8" bag material
If you don't have a lot of money to spend but you still want a vacuum sealer that will allow you to preserve food then this is your best bet for a budget unit. It will do everything that you need, and is only missing a couple of features like the ability to marinate, seal liquids or work with canisters. This is still a terrific machine and it definitely belongs on this list.
There are numerous advantages to this model over many of the others on the market. The main advantage of the Nesco is that it is priced very low while still being of very high quality. That's demonstrated by its place on this list of the top five. In addition, you get two different rolls of bag material so that you'll have a lot of food to wrap up and be able to do a lot of sous vide before you have to buy any more. That's one of the reasons that this is such a good value. It's not only worth the price just for the unit itself, but it comes with plenty of supplies for you to freeze or preserve anything you want.
The only things that you really need to be aware of with this unit is that it lacks some of the features of the ones that are at the top of this list, as this is the budget option, and you have to press down on the edges pretty hard sometimes to get the bag to seal completely.
If you need a budget sous vide vacuum sealer, this is definitely your unit. It has a couple of things that make it a slightly better pick then the Gourmia below, although both of them would make extremely good additions to your kitchen. Whether you are doing sous vide or just parceling up your hamburger so that you don't have to defrost 10 pounds of it next time you want to fire up the barbeque grill, this budget unit has everything you need, including two rolls of wrap that will last you for a really long time. If you like the features and the quality of the Nesco VS-02, then click below and see what the latest price is. These go on sale quite often, and if you can get one at the discounted price it will be way more than worth it.
Check Price on Amazon
#5 – Gourmia GVS435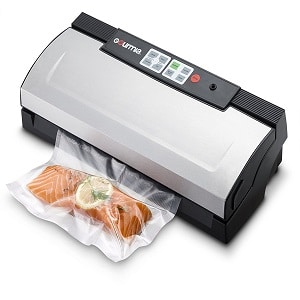 The Gourmia GVS435 is another budget machine that comes in fifth on this list. It doesn't have everything, but it has enough, and the features are numerous enough to compete with any other machine, including some that are priced much higher.
Low price for as much as you get
Vacuum seals veggies, fruits, meats and is perfect for sous vide
This unit has 8 different settings including vacuum and seal, canister, moist food, dry food, gentle setting for fragile food and pulse settings
LEDs show you which setting you are currently using
Includes a starter kit with an entire roll of vacuum sealing bags
ETL certified
The Gourmia GVS435 is a high-quality machine that preserves food and allows you to freeze lots of stuff that you normally wouldn't be able to preserve, allowing you to keep food five times as long and save money on groceries. This is about equal to the other budget item on the list. Then only reason this is ranked second and the other is ranked first is that the Nesco came with two rolls of wrap for about the same price as this one, which only comes with one. But if you like the Gourmia brand, then there is no reason not to get it. Click below and check out the latest price.
Let's get into the meat of this review, which means going over the advantages that the Gourmia GVS435 has over the competition. The first thing that you need to know is that there are lots of units out there priced about the same as this that are just utter garbage. If you go to your local discount "big box" department store, like the one that almost every person reading this has within a few miles of their house these days, you'll find food saving machines from a few different brands, starting about this price and then heading all the way up into ridiculous territory.
If you buy one of those, you are probably going to be sorry, no matter if you go with the cheapo chicken or the outrageously priced roast duck – the highest-priced sous vide vacuum sealer on the shelf, in other words. That's because you can't see customer reviews, you can't check the product out from every angle in pictures and you can't watch videos of it in action.
You can do every one of those things on Amazon, including a video demonstration from Food Network Chef Daniel Green. Plus, you get Amazon's Gold Standard customer service, which means (as anyone who has ever had to return anything will tell you) that Amazon will treat you like the most valuable customer they have if you have a problem. In addition, you get to see answer to previous questions from customers and manufacturer reps, and you get to ask your own if you want. There is every reason to get this vacuum sealer from Amazon right now and not a single reason not to.
Other than the fact that it's a budget machine without some of the features that our top model has, there are no disadvantages to make you aware of. Literally, almost no one had a complaint. 93% rated it at four stars and above and those who didn't – well, as an example, the customer who gave it a one-star review did so because they had to push on the lid to get it to seal and there weren't enough vacuum bags included, even though it lists exactly how many bags come with it.
So, what do you say? Are you ready to start vacuum sealing your food and storing items up to five times as long? Are you ready to say goodbye to freezer burn? Click below and find out how much of a discount you'll get right now on Amazon.
Check Price on Amazon