Skirt steak is one of my absolute favorite cuts of meat. Good thing the Sous Vide happens to be one of the best way to cook it! Today we are going to dive into my favorite sous vide skirt steak recipe.
What is Skirt Steak?
Skirt steak is a cut of of meat that comes from the plate section of the cow. Skirt steak is long and flat. It is not super tender but it is more known for its excellent flavor. Skirt steak is sometimes confused with flank steak, which is a different cut that comes from the cows quarter.
The name "skirt steak" has been used for over a hundred years. In prior years it was not as available as it is today, and was mainly used for Fajitas. By the 1980s because it is such a flavorful piece of meat, its popularity started to explode.
Skirt steak is  an ideal cut for fajitas, Chinese stir-fry, or just on its own with a side of rice or veggies. Skirt steaks also benefit from a good marinade and chimichurri sauce.
There are actually two types—the outside and the inside skirt steak. The texture can actually vary between the two.
The outside skirt is more desirable, because it's tender and less coarse. The inside skirt is wider, about five to seven inches, half as thick, and yields a more chewy bite. If you can only acquire the inside, tenderize it with a meat hammer first.
WHAT'S THE DIFFERENCE BETWEEN SKIRT STEAK AND FLANK STEAK?
Often times people confuse skirt steaks with flank steaks, as they are both long flat cuts of meat, and look very similar.
Skirt steak comes from the "plate" section while flank comes from "flank" section. Skirt steak actually has a richer beef flavor than flank steak. It is also thinner and cooks faster. Personally I prefer the skirt steak.
SKIRT STEAK MARINADE
We are going to outline our favorite marinade for this recipe below. This is going to tenderize the meat and give it a nice rich flavor. It only needs to marinade for about 1 hour.
It's important to marinate your steak before cooking it in the sous vide machine.
Equipment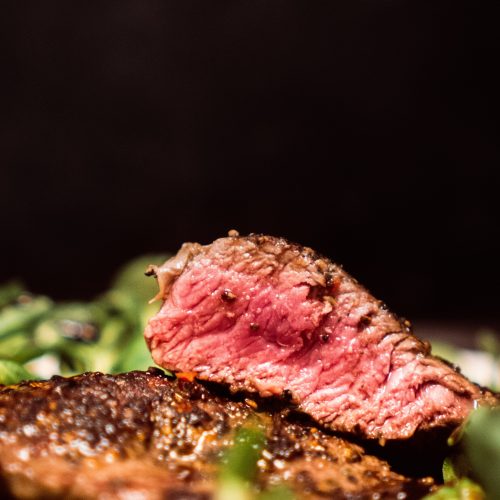 Sous Vide Skirt Steak Marinade and Recipe
Ingredients  
2/3

cup

olive oil

1/2

cup

fresh orange juice

1/3

cup

fresh lime juice

1/4

cup

soy sauce

1/4

cup

Worcestershire sauce

3

tbsp

apple cider vinegar

4

cloves

minced garlic

1

lb

Skirt Steak

Salt and pepper to taste
Instructions 
For the Marinade
Mix all the ingredients together in a bowl

Pour into plastic bag along with steak, and refrigerate for 3-6 hours
For the Steak
Set your sous vide machine in your pot or container, and heat to 130 degrees

Remove marinated steak from bag and place in new ziploc or vacuum sealed bag

Place bag in the water and cook for 2-3 hours

Remove bag, remove steak and pat dry, and sear on a very hot cast iron for 30 seconds per side
Be sure to head over to our recipe book review article for more great sous vide ideas! – 10 Best Sous Vide Cookbooks (Reviews Updated 2021)