What are Beef Back Ribs?
Beef Back Ribs come from the Ribeye portion and are the leftover from when the butcher separates the meat from the bones. In today's recipe I am going to show you my favorite sous vide beef back ribs recipe.
There is typically not a ton of meat but there is a lot of fat, making the meat super flavorful and tender!
I love beef back ribs but until I started using the sous vide to cook them, I was never able to get the perfect texture that I was seeking. This is by no means a short recipe, but I can tell you the wait is 100% worth it!
My Recipe is also extremely simple, basically just drop the ribs in the sous vide for 48 hours, and then sear them in the oven!
Because we are sous viding for such a long time in this recipe, it helps to have a container with a lid although not necessary. Check out our favorites here.
What is the difference between sous vide beef back ribs and short ribs?
Beef back ribs are taken from the rib section, and are associated with BBQ ribs. Short ribs, are taken from the plate cut of the cow and tend to be much shorter with a little more meat on them. The most popular way to cook short ribs is to braise them.
Equipment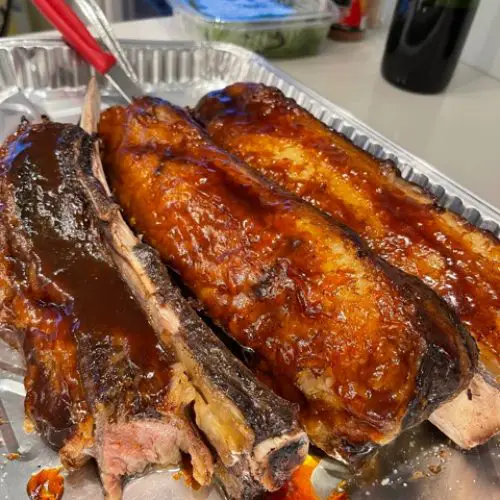 Sous Vide Beef Back Ribs
Ingredients  
5

lb

Beef Back Ribs

1

tbsp

Kosher Salt

1

tspn

Black Pepper

1

Cup

BBQ Sauce
Instructions 
Season your ribs with Salt and Pepper and vacuum seal them in a bag. If you do not have a vacuum sealer you can separate them into large Ziploc bags

Set your sous vide cooker to 150 degrees.

Once water is up tp temp, drop in the ribs and let them cook for 36 to 48 hours.

Remove Ribs and dry well. Season again with some salt, and brush BBQ sauce all over them.

Place ribs in oven for 15 minutes. Enjoy!
Be sure to head over to our recipe book review article for more great sous vide ideas! – 10 Best Sous Vide Cookbooks (Reviews Updated 2021)