When was the last time you cooked dinner and said, "That was delicious?" Food doesn't have to be boring or tasteless. A Sous Vide can turn a mediocre cook into a sensation with little effort put into a meal.
The SousVide Supreme Professional water oven unlocks a cook's true potential.
You, too, can make delicious, mouth-watering food. I couldn't ask for more capacity with this model (20 – 24, four to six ounce portions), and it left me impressed enough to share my experience with you.
Check Latest Price on Amazon.com!
---
Main Features
---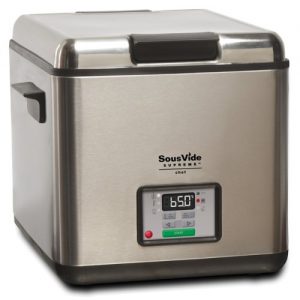 The SSC-00100 is packed with features to make cooking a breeze. Whether cooking one meal or 24, you can do it all in this sous vide. And if you're a fitness nut or like to prepare your food in advance, the unit's ability to cook up to 24, six-ounce portions at once is priceless.
Compact in design, this unit has a similar size to a bread maker.
The dimensions are 14.9" x 13.5" x 11.8" with a weight of just 13.9 pounds. If you have little counter space to spare, the small size is perfect.
When choosing the Supreme Professional, you're choosing a sous vide that's perfect for restaurant kitchens and culinary professionals. The all-in-one design ensures temperature control precision.
A PID-controlled heating element keeps temperatures to within 1-degree Fahrenheit accuracy. Heat resistant handles allow for oven mitt-free handling for easy lifting. The lid contains steam, and the unit operates at a whisper-quiet level.
Users just set it and forget it while the Professional takes care of the rest.
Energy-efficient, the unit uses the same amount of energy as a 60W bulb. UL commercial approved, this unit is designed and certified to meet the stringent requirements found in restaurants. And trust me when I say that restaurants require only the best appliances.
Temperature control is done right on the control panel.
Hand-calibrated, users never need to re-calibrate the Professional again. It's the hand-free, high-end sous vide priced perfectly for homeowners that don't want to settle for substandard food.
You'll be your own sous chef – minus the price.
Users can cook two or more distinct foods at once, and it's impossible to overcook your food, too.
See what other customers are saying!
---
Advantages of the Product
---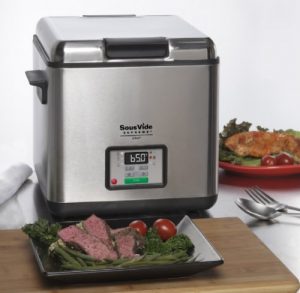 Making food is an art, and the temperature of the food, or maintaining a precise temperature is vital to the way your food tastes. If the temperature is off by a few degrees, your food's taste will suffer.
The Supreme Professional maintains temperature to a +/- 1 degree Fahrenheit.
Personally, I think this is the most important feature of all because without proper temperature control, the whole sous vide concept falls apart. Users simply tap the control panel to change the temperature, and the machine does the rest. It's intuitive and precise.
Cook two or more types of food at once (barring the same temperature requirements), and bulk cook your food. This saves a ton of time in the kitchen, and you'll be able to prep for an entire week's worth of food if you wish.
You can also cook a single meal at a time.
The versatility of being able to make up to 24 meals at a time is experienced the first time you have a family gathering.
Maintenance is non-existent with the hand-calibration done for you already. No empty pots or pans makes cleanup a breeze, too. Simply empty out the water, wipe the unit down with a soft cloth, and you're done.
You never have an excuse to have piles of dishes in the sink again.
---
Disadvantages of the Product
---
I don't have a complaint about this sous vide machine, and for me, that's a rarity. The only minor issue is the price, and since the unit has come down in price recently, it's not that big of an issue anymore.
You're purchasing a high-end commercial water oven, so the price is reflected in the quality.
You get what you pay for, and if you need to go on a mass cooking spree, you'll be happy to have the added cooking capacity this unit offers.
---
The Verdict
---
The SousVide Supreme Professional is a professional appliance. In terms of quality and build, this model can withstand daily use without leaks or temperature issues that plague other units. And with the versatility to cook 20-something meals at one time, it's a major time saver.
I highly recommend this sous vide for the food prepper or the small restaurant that wants to cook food to perfection with consistency.
You can pick up your own unit right on Amazon. Just keep in mind that the unit is often sold out, so if it's available, snatch it up before someone else does.
Buy Now on Amazon.com!
---
Not exactly what you're looking for? You can check out our picks of the best rated sous vide machines reviews here!
---