This is a review of the Sous Vide Supreme Demi Water Oven. This sous vide machine will provide superb cooking results for you, and everybody that eats your food will believe that you are a gourmet cook. The machine provides an easy and efficient way to cook gourmet meals.
---
Main Features
---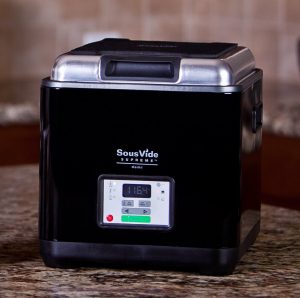 The Supreme Demi cooks with 8.7 liters of water in its self contained water oven, which should be sufficient for most home cooking. It can hold up to 12 pouches of food (4 ounces each) and has a compact design for your kitchen countertop. It measures 13 inches long by 11 inches wide and 11.3 inches deep. It only weighs 12.1 pounds.
Using this sous vide cooker is really easy thanks to the push button operation. All you have to do is prepare your food with seasoning and then seal it in vacuum bags. The Supreme Demi will cook your food at a consistent temperature within ±1°F which will ensure that your food is never overcooked and turns out perfectly every time.
With excellent temperature control, the Supreme Demi can maintain the temperature that you have set for hours and even days if you want. The water cooker has a silent operation and once the water inside has reached the required temperature it is very energy efficient.
Everybody can use this amazing sous vide machine to turn out fantastic gourmet meals. It doesn't matter if you are just starting out or already a gourmet chef. The Supreme Demi offers totally hands free cooking. All you have to do is set it and forget it.
This suvee cooker will ensure that the flavor of your food is always retained. All of the food's natural juices and nutrients will be kept in the vacuum pouches. It is even possible to tenderize inexpensive cuts of meat such as brisket or flank steak with the Supreme Demi.
It is very important that any pouches of food do not cover the grill at the bottom of the Supreme Demi unit. This perforated grill ensures the correct convection circulation of the water. This suvee machine has a pouch rack that separates the pouches of food from each other, and ensures that they do not cover the perforated grill. If you want to cook larger food items then the rack can be removed.
The Supreme Demi is very easy to clean after you have used it. Once the water has been emptied all you need to do is wipe the unit down.
Check Latest Price on Amazon.com!
---
Advantages of the Supreme Demi Water Oven!
---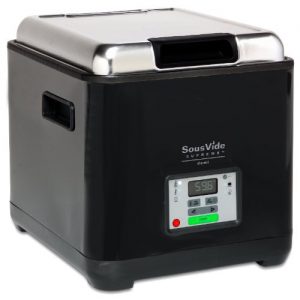 The Supreme Demi will not take up much space in your kitchen and offers a truly set and forget method of cooking gourmet food. It has a digital LED display with a temperature range of 30°C to 99°C (86°F to 210°F). Temperature control is very precise to ±1°F or ±0.5° C which is essential for excellent souvide results.
If you want to cook for hours or even days you can do that with this water cooker. The Supreme Demi has a timer that you can set from 1 minute to 99 hours and when the time cycle has ended you will hear an audible alarm.
You can cook any number of different proteins with this sous vide machine. If you need to cook a 10 course meal for a number of people then you can do that at home with ease. The cooker was tested using short cook times of around 30 minutes and longer cooking times of over two days and excellent results were achieved every time.
A vacuum sealer will be required and this is not supplied with the machine. There are several of these available and as long as they are food grade quality you will be fine. You just place the food in the bag, season it and then seal it and place it into the water oven.
The rack that separates the food pouches can be removed to cook larger food items which is very convenient.
The first thing to say here about the Supreme Demi sous vide cooker is that it really looks good. It is something that you will eagerly want to show off to your friends when they visit. It has a stainless steel frame and there are areas where strong matt plastic has been used. The interior is anodized aluminum and the lid is polished aluminum.
It has a compact design and this leads to a fairly small footprint. It is no bigger than a small microwave. Unlike a microwave it opens from the top. The overall build quality is very good and you will not be disappointed.
As you are probably aware, correct temperature control is critical with sous vide cooking. In this regard. the Supreme Demi does not disappoint. Even with long cooks lasting days the machine is able to maintain the correct temperature.
Despite not having a water pump, the Supreme Demi holds the cooking temperature evenly irrespective of the amount of time it is being used for.  This sous vide equipment has sophisticated computer control for the appropriate circulation of water via convection currents.
See why other customers love the Sous Vide Supreme Demi Water Oven!
---
Disadvantages of the Sous Vide Supreme
---
Some users found that the buttons to control the temperature and the timer were difficult to use. The buttons required a very firm push and this meant that you needed to check that everything was set up correctly.
This was not our experience, but even if some find the buttons a little firm to push and the settings need checking before you walk away from the machine this is not considered a major drawback. Checking the settings is always a good idea.
A few users felt that the Supreme Demi took too long to heat the water. If you are cooking at very high temperatures then it will take a bit of time to heat the water. Any sous vide machine is going to take a while to reach the highest cooking temperatures.
Some people felt that the Supreme Demi took too long to cook the food that they put into it. If you want your meats to be very tender then the time that it takes to cook is the whole point. Yes it is designed only to cook a few things and this was not considered a major problem for most users.
---
The Verdict!
---
The Supreme Demi sous vide cooker is a high quality sous vide machine that is very easy to use and will produce amazing cooking results time after time. It is fairly compact and will fit well in the majority of home kitchens.
If you want to cook gourmet meals at home with a set and forget suvee cooker, then the Supreme Demi is an excellent choice. Act now and you can be astonishing your family and friends with gourmet cooking of the highest quality.
Buy Now on Amazon.com!
---