PolyScience Culinary specializes in innovative culinary technology. PolyScience has created numerous award qualifying and award winning products. They are known for their sous-vide accessories, among other things. Sous vide is a cooking method where food is first vacuumed sealed and then slowly and cooked evenly in a heated water bath. The most crucial part of the whole process is keeping all the water at an even and consistent temperature.
The best and most practical way to do this is with an immersion circulator, which circulates heat evenly throughout the water. The circulator will heat the water without any use of a stove or other things. By using an immersion circulator to heat the water evenly, you can create many Sous vide dishes such as fish, pork, steak, chicken, and even eggs that will stay perfectly soft and fluffy until you're ready to serve them. PolyScience offers a line of the best immersion circulators you can get, among these is the CHEF Series Sous Vide Immersion Circulator.
This amazing immersion circulator has won the award Red Dot Award for its design. The Red Dot award is a prestige, internationally recognized award, recognizing the best and most innovative design companies have to offer.
Check Latest Price on Amazon.com!
---
CHEF Series Sous Vide Immersion Circulator Features
---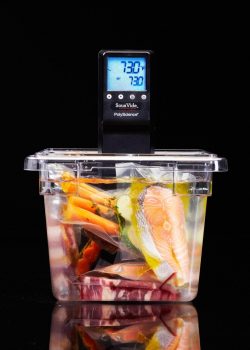 I also love how intuitive and easy it is to use. It clips right on the side of any pot of water. I was amazed how well this product performed under even the toughest conditions. The easy to read LCD screen shows the set temperature and the actual temperature. The actual temperature is always within 0.07 degrees of the set temperature! It can heat up to eight gallons of water and includes pump flow regulation, which is important in evenly cooking your food. Another great thing I love about this circulator is how durable and compact it is. It is made out of high-quality stainless steel, ensuring long lasting performance and it is compact enough to store practically anywhere.
I believe the Chef Series Sous Vide Immersion Circulator is the best immersion circulator because it allows you to set any temperature you want and it is far more durable than other circulators and can efficiently heat more water than many other circulators.
Finally, to add to all the already great features, you can also control the cooking liquid circulation level easily with the adjustable pump pressure outlet. The CHEF Series Sous Vide Immersion Circulator also meets all the requirements to be ETL commercial and sanitation approved.
---
The Verdict
---
The PolyScience CHEF Series Sous Vide Immersion Circulator sets the standard by which all other immersion circulators should be compared. It is amazing, and I can't say enough how much I love it. I would highly recommend this to any serious chef out there. I would even recommend the CHEF Series Sous Vide Immersion Circulator to any beginner chef as well because it is so easy to use. Anyone can learn to be a Sous-Vide Chef, and getting the CHEF Series Sous Vide Immersion Circulator is a great first step.
The only other thing you'll need is a vacuum sealer, but you might even already have one. The CHEF Series Sous Vide Immersion Circulator is perfect for cooking everything from simple meals to extravagant feasts. It outperforms any other immersion circulator you'll find. It's accuracy, durability, and effectiveness makes this one of the best sous vide immersion circulators.
Buy Now on Amazon.com!
---